The Missing Middle Neighborhood Kit™
Helping enable the efficient delivery of highly desirable housing choices in infill and new neighborhoods.
Help from the Missing Middle Specialists: Get access to 20+ years of award-winning design and construction experience, extensive research, and thought leadership with our Missing Middle Housing catalog of prototypes, making it easier to deliver needed and desired housing choices efficiently. These prototypes are applicable for single-lot infill to 40+ acre complete Missing Middle Neighborhoods.
Peace of Mind: No need to struggle to find the right consultants to deal with issues related to complex building codes and these building types. With our services, you are not just getting an efficient plan, but also a level of support through entitlement, building permits, and into construction.
Need a Unique Touch? Like a prototype, but prefer a different architectural style? Like a building, but the unit size and mix is not quite right for your market? For an additional fee, we can redesign any prototype to meet your needs.
"Opticos worked closely with us to design a beautiful, diverse neighborhood that I couldn't even imagine when I first walked the site...It's been a true pleasure working with them to fulfill my vision of bringing new Missing Middle Housing to the Omaha region."
Jerry Reimer,
President of Urban Waters, Developer of Bungalows on the Lake at Prairie Queen
Available Designs
Sorry, there are no designs matching your criteria.
Features and Benefits
The Missing Middle Neighborhood Kit includes for sale, fee simple, condo, and rental home types. This flexibility can help you provide attainable housing products or higher-end homes at the top end of the market, and everything in between.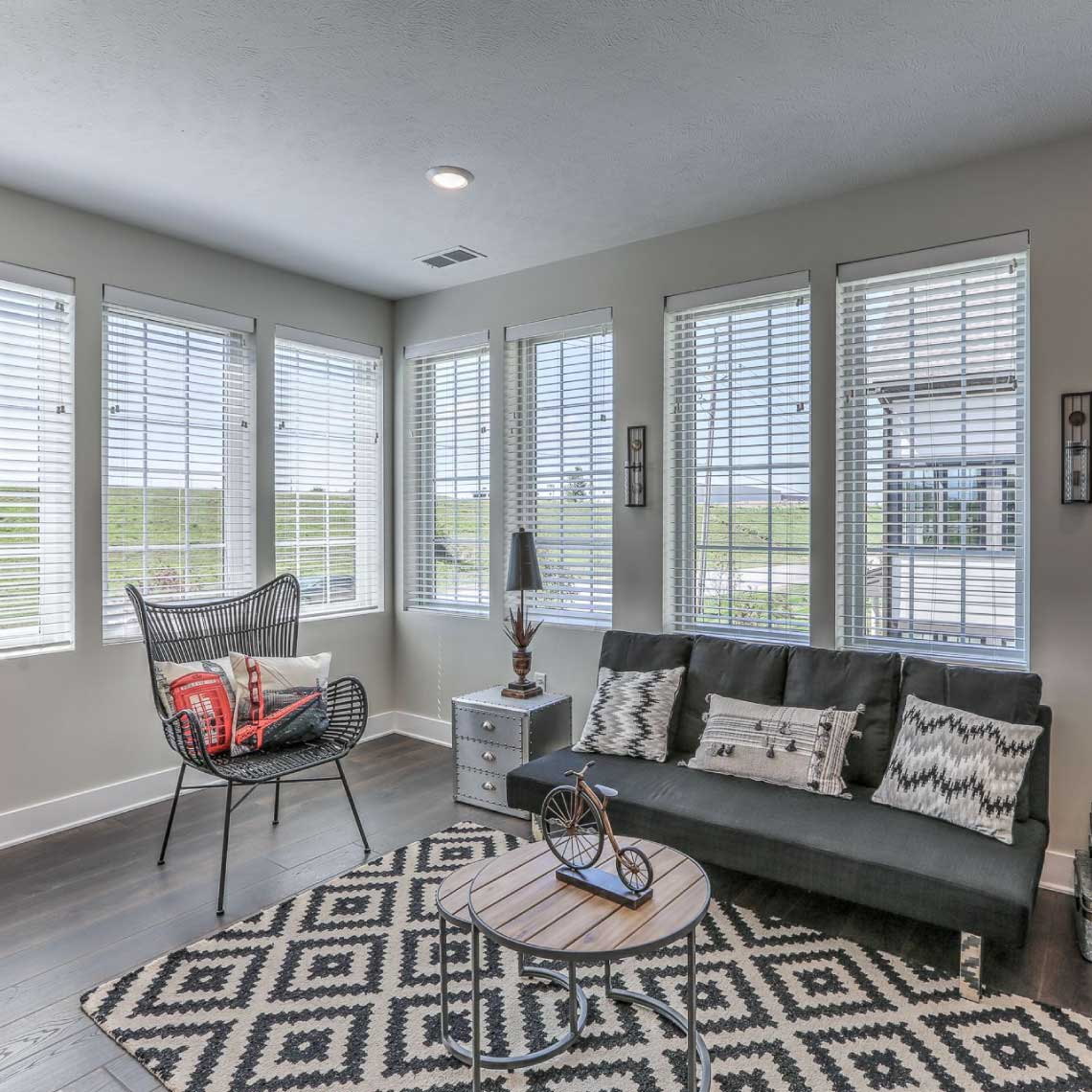 Feels Like Home
The majority of the units/homes have natural light on three sides, separate entries, and no shared corridors, which means they live very much like a single family home rather than a typical apartment.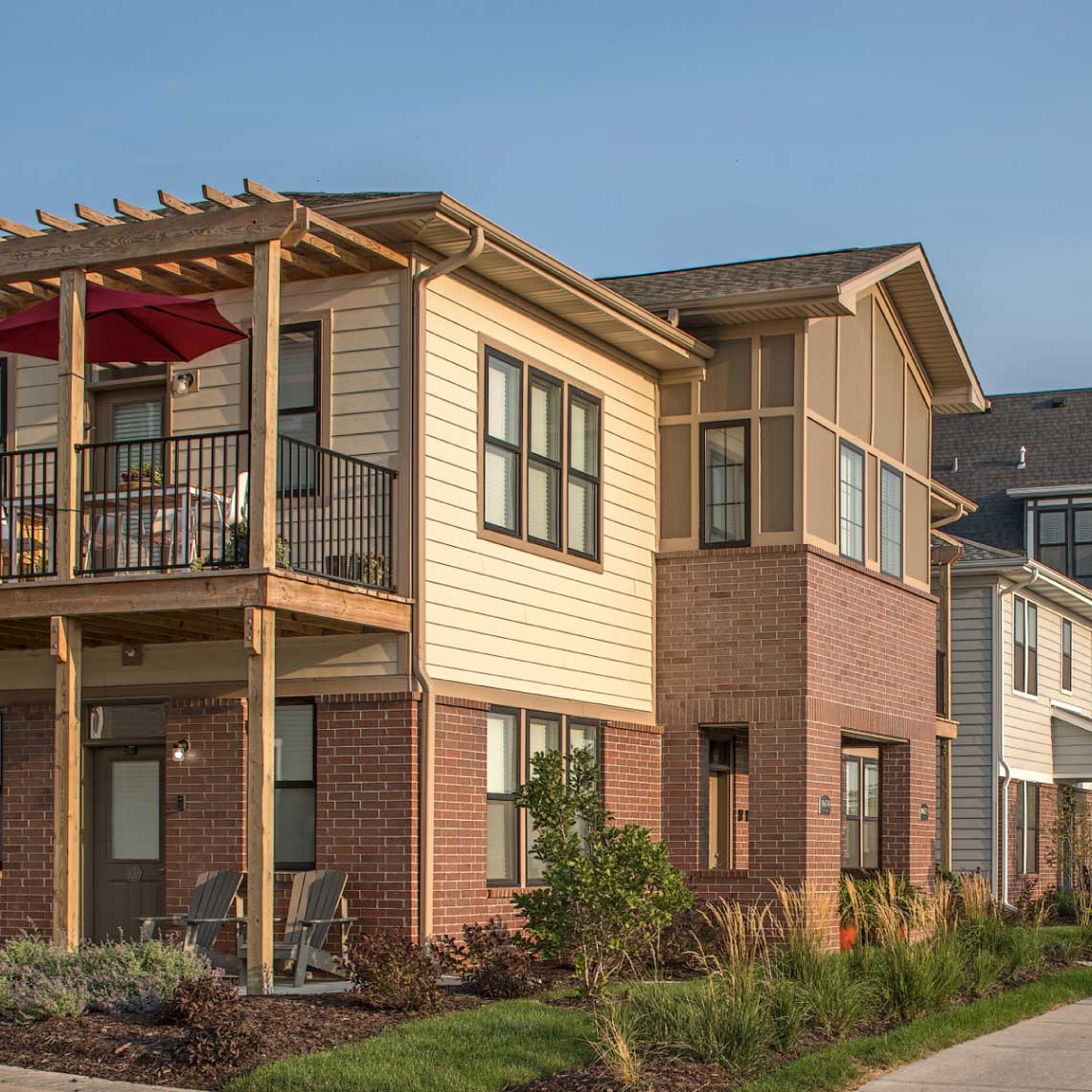 Cost-Efficient Buildings
These buildings are also efficient: They have no shared corridors, no elevators, and most of them are 100% efficient, meaning that 100% of the space is leasable square footage.
Code Compatible
Jump start your permitting by starting with building plans that meet widely accepted standards. Our building types are designed for compliance, and we'll work with you to comply with local zoning and building code requirements.
1-2 Unit Homes
One or Two unit homes can typically be built under the residential building code and typically do not require fire sprinklers in most jurisdictions.
Townhomes
Most townhomes can typically be built under the residential building code and typically only require domestic fire suppression systems.
3+ Unit Homes
Buildings containing 3 or more units typically must comply with the commercial building codes and fire suppression requirements.
Buildings for Whole Blocks
These types can be assembled to deliver a complete, new walkable neighborhood, or they can be used to "fill in the gaps" on infill sites to make more complete existing neighborhoods.
What's Included
Get time- and cost-efficient delivery! Bring us your site plan and program and we'll work with you to select building prototypes from our catalog that meet the unique needs of your vision, market, and site. We'll deliver plans for those prototypes for use in entitlement, building permits and construction. Here's what you can expect from the Missing Middle Neighborhood Kit™:
1
MMH Kit of Parts Selection and Placement
Selection of prototypes and conceptual site application
List of recommended prototypes from catalog
Initial siting of prototypes within the overall site plan
Drawings developed to the planning approval level for selected prototypes
2
Permit Plans
Generated for specific site for use in building permit sets and construction
Architectural drawings developed to building permit level
Structural drawings
Outline specifications
MEP design assumptions
Revisions to address agency's building permit comments
*
Optional Add-ons
Don't yet have a site plan or interested in more architectural styles? Our award-winning team can help!
Development program and plan
Conceptual site design
Architectural style variation for prototype(s)
Modifications to unit plans and unit mix
FAQs
1.
Why should I be interested in purchasing the Missing Middle Neighborhood Kit?
Here you'll find the flexibility and variety you need. Unlike house plan sites that focus mainly on single-family homes, stop at duplexes due to code restrictions, or offer limited options for triplexes and fourplexes, our Missing Middle Neighborhood Kit offers a comprehensive solution. The design options include residential buildings with up to 8 units per building, catering to the demand for diverse housing options in both for sale and for rent projects.
2.
Can I purchase the Missing Middle Neighborhood Kit to use for just one building?
Currently, we are working with developer/builders who are interested in developing multiple buildings on a site, and reusing building types across the site plan. However, we plan to extend our services to smaller, infill projects in the future. If you're interested in our current services or want to stay in the loop for future offerings, please reach out to us via the contact form below. We'll be happy to discuss whether your project is the right fit now or keep you updated on our upcoming services.
3.
What's included in the Missing Middle Neighborhood Kit?
You can see a detailed list of what's included here. Along with these services, we'll provide you with a one-time, limited license to build each design you select, as described in your services agreement. We totally understand (and hope) that you might like to build each building type more than once, and we can easily incorporate that into the services agreement for an additional license fee.
4.
Will I need to hire a local architect? How developed are the drawings?
We're hoping to make this as easy as possible! The package includes architectural and structural drawings for use in your building permit sets and construction documents (see list here). You and your team will need to provide additional info, such as mechanical, electrical, plumbing (MEP) and fire protection design. Please reach out to us via the contact form below with your project information for more detail on the contract specifics.
5.
Can the designs be modified?
Absolutely! We're able to provide modifications to architectural style, unit plans, site specific challenges, and local requirements for an additional fee. Feel free to reach out with your project info via the contact form below for an estimate.
6.
Can I just copy your designs, because a local designer offered to draw the plans for us, or can I have a local architect modify the plans?
No, and we'll explain why. All building designs, including any modifications to the design, are the intellectual property of the architect or designer who originally designed the building and are protected by copyright law. This is just like musicians' and other artists' rights. So having someone else redraw them or modify them without permission is illegal. However, here's the good news: we're making it simpler to get access to our designs through us! Just reach out via the contact form below to find out more.
7.
What if I don't have a site plan yet?
We're happy to help! As an add-on service, our award-winning team will work with you to design a conceptual site plan and develop it to the point that we can hand it off to your local civil engineer.
Get Started
Mix and match building types to craft a walkable neighborhood experience that fulfills demand for innovative housing choices in your community. Tell us about your project opportunities and a Missing Middle Neighborhood Kit™ consultant will reach out to you.
Missing Middle Housing respects the GDPR and will never share your information without consent. Read our privacy policy for more on how we handle your personal information.